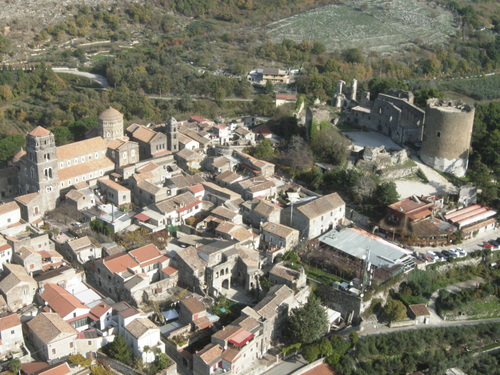 THE VILLAGE OF CASERTA VECCHIA, ITALY
BIRTH PLACE OF THE CASELLA FAMILY
First let me assure you that the correct spelling is CASELLA, everyone who came from Italy all had the correct spelling on all there documents, including the manifest from the ship they came over on. I also made several trips to Italy in the village that the Casella family came from Caserta Vecchia. All birth, death, and marriage records are spelt Casella on all official records in there village and the city of Caserta.
The Casella Family first settled in Hancock New York. It appears that this is where the name got changed from Casella to Cassella. The Birth Certificate for Salvatore (Sam) Cassella and Fioravanti (Larry) Cassella, and also there Baptismal record shows the name as Cassella. They were the only two born in the United States.
The Casella family then settled in Worcester Massachusetts. As the family advanced in age Tony Casella married and settled in the Bronx New York. Tony Casella and his family is the only one to maintain the correct spelling of the name.
The family then purchased two three Decker houses on Gage Street in Worcester Massachusetts and all three floors of both houses were family. Salvatore (Sam) and Fioravanti (Larry) Cassella and there children lived in one three Decker and Nicola Casello and his children lived in the other three Decker. The story was often told that Nicola Casello changed his name by changing the "a" at the end of the name to "o" and the reason was because of confusion over Mail Delivery. To this day we still don't know if that is correct, but I guess it is as good as it will get.
NOTE:
If there is any family member that can add to or correct this information please contact me either by phone or email. This information was submitted by Larry A. Cassella Jr.